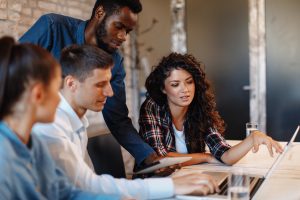 Data from December 2019 shows that there are more than 1.2 billion active websites across the web. More than 27 million of them are powered by WordPress, giving the popular content management system (CMS) a total market share of more than 35%. In other words, more than one third of all internet websites are built on WordPress.
WordPress is also the clear leader among CMS platforms. It owns 51% of the total CMS market. Rounding out the top five are Wix, Squarespace, Joomla! and Shopify. All four combined only account for just over 8 million websites as opposed to the 27 million for WordPress.
To put it simply, the influence WordPress has on the web is the main reason your website should be built on it. But why should you hire WordPress website designers in Redding, CA? Because of their expertise.
Take Full Advantage of WordPress
It's no accident that WordPress powers so many websites. As a content management system, it is one of the most powerful around. And though it is as easy to use as a word processor, there is a lot that goes on under the hood. This dictates that it is extremely difficult to take full advantage of WordPress if you don't have a thorough understanding of how it works.
WordPress website designers know what it takes to maximize the platform. They know how major search engines deal with WordPress sites at the coding level. They know how to best use white hat SEO principles to improve Google search rankings. They know how to maximize things like image tags, meta tags, site maps and long tail keywords.
A WordPress beginner may be very capable of choosing a template and writing a few blog posts to get a website up and running. But with more than 1 billion active websites, that's not enough. A website has to be able to compete with every other site in the same industry in order to do well on search engines. That's not possible if you don't know all of the little details that go into making sure a WordPress site ranks extremely well.
Searches in Redding
Another thing to consider is the power of the local search. It's one thing to rank well on Google nationwide, but the growth of a local business may depend more on local search performance. Once again, this is where WordPress website designers in Redding, CA shine.
Local WordPress experts know how to improve local search rankings. They know how to captivate the local audience by incorporating a company's website within its social media presence. They have the skills and knowledge to help local businesses succeed in local searches, thereby increasing the chances that those businesses will grow regionally, across the state, and eventually nationwide.
It is entirely possible for a business owner to create his own site with WordPress. It's also possible that such a site would do very well. But to maximize the potential WordPress brings to the table, expertise is required. That expertise is found in website developers who specialize in WordPress.