Optimize Continues to Show Dedication to Community Service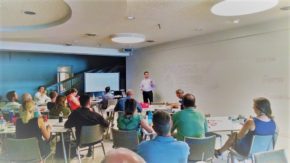 Redding, California (February 24, 2017) — Optimize Worldwide announced that it completed 271 hours of volunteer work during the year of 2016. This brings the total hours donated to 1,200 over the last three years.
"Community service has always been a hallmark of our company," says Matt Morgan, founder and CEO of Optimize Worldwide. "We love to invest in our community and make it a better place to live, work, and play."
Optimize Worldwide volunteers for nonprofit organizations of all types—charitable organizations, schools, homeless initiatives, and civic organizations. Volunteer hours are donated in different ways. Sometimes, website work for a nonprofit organization is done gratis. Other times, Optimize staff will go on-site to participate in a committee or an event.
Optimize has found that volunteering reinforces their connection with the local community and keeps them on the pulse of things that are taking place. Matt Morgan has especially been involved in spearheading initiatives, such as the Handouts Don't Help campaign and local tech training for Redding youth. "I'm especially passionate about instilling technology in our youth," says Morgan.
"For three years, Matt at Optimize Worldwide has generously sponsored a student for Build It's tech camps, which inspire the youth of today to become leaders in technology and innovation. Matt's sponsorship allowed these students to explore the introductory concepts in computer programming, 3D modeling, Lego robotics, and music design that can develop into a lifelong passion for creativity," says Ben Byler of Build It in Redding, California.
Optimize Worldwide looks forward to continuing the legacy of community investment. "Together, local businesses and community service organizations can forge a stronger community," Morgan states.
Have a Story of Your Own?
How has your business or a business you know given back to your community? We support the community efforts of other businesses and often link arms with them to accomplish mutual objectives. We'd love to hear your story! Please write and tell us about it.
About Optimize Worldwide
Optimize Worldwide is based in Redding, California, and is the brainchild of founder and CEO, Matt Morgan. Morgan has been actively involved in assisting companies with their online presence since starting a web design firm in 1997. Optimize Worldwide was born in 2011 when he perceived the need to create websites that were aesthetically pleasing while meeting the exacting standards of search engines.