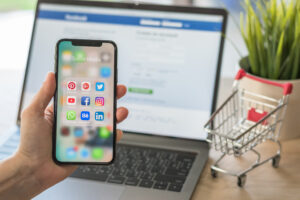 Facebook has more active users than any other social media site, and Instagram is the fastest growing. If you are not using these channels to reach your customers, you could be missing out on a huge opportunity. Facebook and Instagram advertising can also help build brand awareness and increase customer loyalty if it is done correctly. We here at Optimize Worldwide are ready to help you with all of your digital advertising needs. This article discusses why it is important to use a professional for reaching customers through Facebook & Instagram digital advertising.
1. Reach Customers That Are Interested In Your Product
Facebook and Instagram are great for reaching the exact customers you want to connect with. The key is knowing how to create an engaging ad that will stand out among other ads on their feeds. We know what it takes to make your digital advertising efforts successful, and we can create compelling ads that stand out from the rest.
2. Builds Brand Awareness & Increases Customer Loyalty
When you have strong digital advertising efforts, consumers will see your brand more often, becoming familiar to them. Having a well-known brand is important because it creates customer loyalty which leads to repeat purchases. If you want long term success with your business, investing in quality online advertising made by professionals is going to be key for achieving this. Our team can help advertise your product or service so customers will know about you and what you offer. This type of consistent exposure eventually results in trust, which greatly impacts their purchasing decisions as time goes on.
3. It is A Great Way To Grow Your Business
If you want to have a successful business, you need to be where your customers are. Over half of digital media time is spent on mobile devices. This means consumers are spending more time browsing social media sites than ever before. Facebook and Instagram also allow your business to get in front of new potential customers that may not know about your product or service yet. The key is knowing how to get their attention which we will teach you how to do for each platform we manage ads on.
4. Professional Digital Advertising Helps You Reach Your Target Customers Faster
Reaching people organically on Facebook, Instagram & other social media platforms takes a lot of patience and research because it is all about strategy rather than paying an upfront fee for ad space. You have to know what your target customers are into and target a customized ad towards them which takes time for setup and testing before it becomes effective. Once you know what type of posts work, our team can replicate the most successful types of posts, so you do not have to spend valuable resources figuring everything out on your own.
5. A Professional For Facebook & Instagram Advertising Can Handle All Aspects Of Your Campaign
Professionals can handle all aspects of your campaign, from creating an ad that will resonate with the right people, getting it seen by their followers, collecting leads via forms or email addresses, then converting those interested in learning more into customers when possible. Transparency is also important because a professional should give a full breakdown of how much everything costs, so you know exactly what your ad spend is going towards.
In conclusion, finding help with your Facebook & Instagram digital advertising efforts is very important for the success of your small business. The key is finding a team that knows exactly what they are doing and can create an effective ad campaign for you, so you do not have to spend valuable time and resources trying to figure it all out on your own. If you need help getting started or want to take things up a notch, feel free to contact us today!