As a trusted digital advertising company, we're here to supercharge your online presence and connect you with potential clients needing electrical services. With our tailored Local Service Ads for Electricians, your business will shine and bring in local search results, reaching customers who seek reliable electrical solutions. We specialize in optimizing your digital presence, ensuring that your expertise is just a click away for those who need it most. Electrify your marketing strategy with us and watch your business surge to newer heights.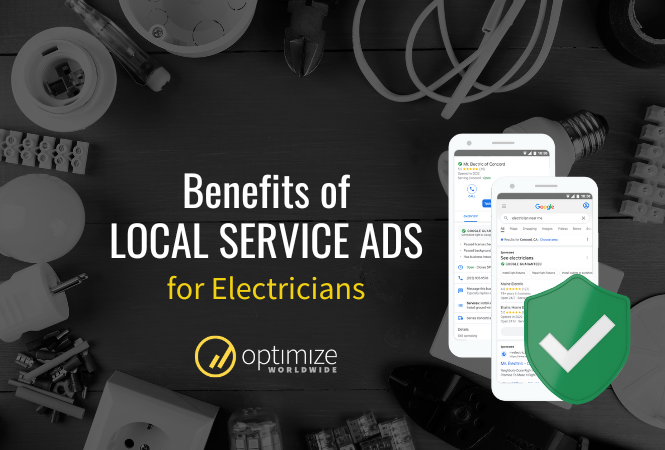 Understanding Local Service Ads for Electricians
Local Service Ads, or LSAs for short, are the new frontier in online advertising for electricians. These specialized ads with the Screened Badge are designed to propel your electrical business to the forefront of Google search results, putting you ahead of search results before regular PPC ads. This helps you outperform other businesses who are not taking advantage of the Local Service Ads and ultimately get more calls and greater visibility.

The Power of Google Guaranteed Ads
With Google Guaranteed Local Service Ads, your electrician business can enjoy a host of advantages:
Unrivaled Visibility: Google Guaranteed Ads secure prime positions in search results, ensuring that potential customers find you first.
Credibility Boost: Google rigorously vets and verifies businesses running these ads, signaling trustworthiness to customers.
Recorded Leads: Every call generated through Google Guaranteed Ads is recorded, providing assurance that your leads are genuine.
Earning Trust with the Google GUARANTEED Badge
In this digital age, trust is paramount. A Google Guaranteed badge provides an extra layer of credibility, instilling confidence in your services among potential customers. It's a mark of quality that sets you apart.
How We Help You Thrive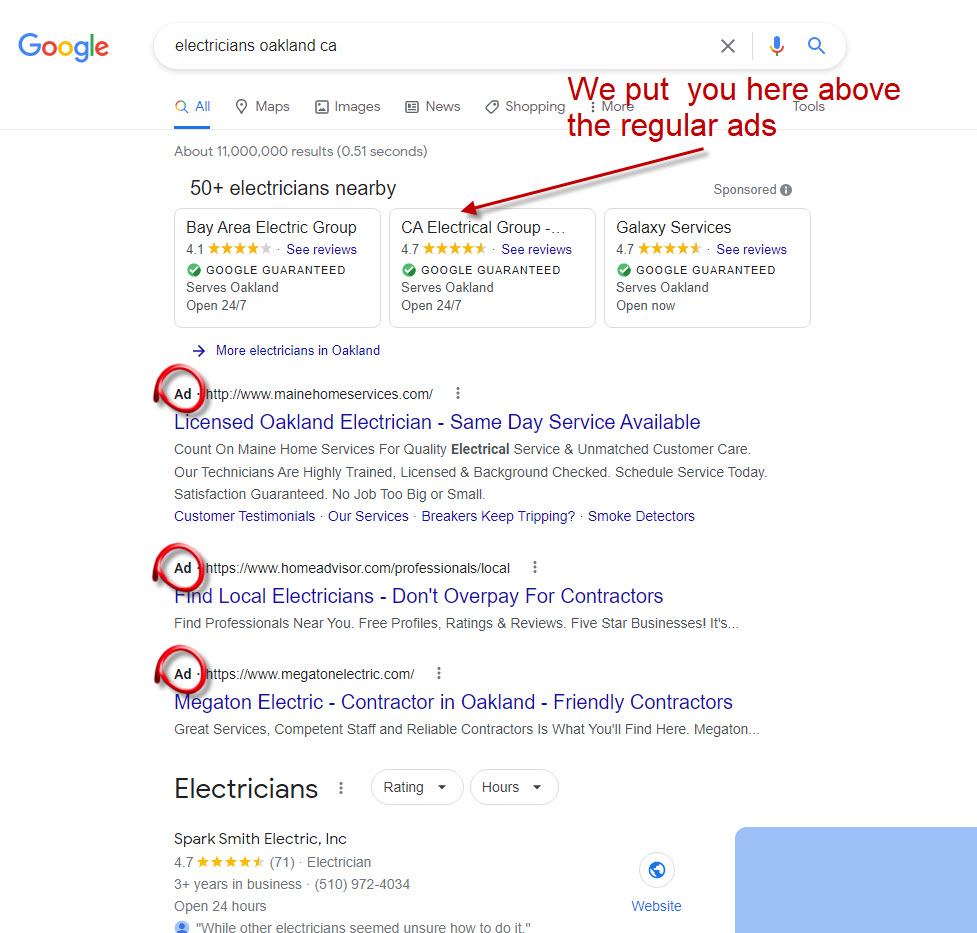 As digital advertising experts, we recognize that Google's Local Service Ads are game-changing tools for electricians. They offer unparalleled visibility, cost-effective lead generation, and the trust of potential customers. By following the steps outlined in this guide, you can harness the power of LSAs to promote your business within your service area efficiently. Don't miss out on this remarkable opportunity to connect with local customers and propel your business toward great success in the digital era. Contact us today to learn more about how we can help manage your LSAs.
Benefits Beyond the Badge
The benefits of Google Guaranteed Ads extend beyond credibility:
Premium Placement: These ads outshine regular PPC ads in many cases, ensuring greater visibility.
Coveted Google Badge: The distinctive badge enhances your company's reputation.
Lead Verification: All calls stemming from Google Guaranteed Ads are recorded, assuring you that your leads are turning into clients.
Cost Considerations: Are you wondering about the cost? Local Service Ads tailor your advertising budget to your service area. For pricing details, call, text, or email us. We handle everything, from background screening verification to ad creation optimization and reporting.
Retargeting for Maximum Impact
There's more to our strategy than just Google guaranteed Ads. We understand the importance of staying top-of-mind with potential customers. That's why our Local Service Ads are complemented by other retargeting ads. When a potential customer visits your website, we "tag" them and retarget them with your ads on other platforms like Facebook and Instagram. This ensures that your business stays in their sights, encouraging them to pick up the phone or schedule an appointment with your company.
Get Verified and Start Receiving Calls with Local Service Ads by Optimize Worldwide
In a world where online presence can make or break your business, Local Service Ads for electricians are a game-changer. They not only boost your visibility but also enhance your credibility, all while ensuring that every lead is genuine. Combine this with our strategic retargeting approach, and your electrical business will have the edge it needs to thrive in the digital age. Don't miss out on this opportunity to supercharge your business — get started with Local Service Ads today.
Ready to electrify your online presence? Contact Optimize Worldwide or call/text 925-338-7368 and watch your business shine in the digital spotlight.