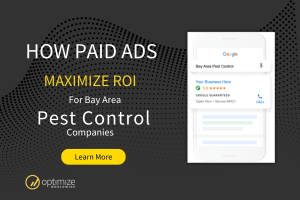 In the ever-evolving digital business landscape, achieving a competitive edge for your Bay area pest control company necessitates a strategic approach. While traditional marketing methods remain significant, the digital advertising sphere presents unparalleled opportunities. For Bay Area pest control companies, harnessing the potential of paid advertising is paramount. In this blog, we will explore the various types of paid ads, examine their distinct advantages, and illustrate how Optimize Worldwide, your esteemed local digital advertising partner, is uniquely positioned to facilitate the realization of your marketing objectives within this dynamic and competitive industry using paid ads for Bay Area pest control companies.
Types of Paid Ads:
Each paid advertising platform operates slightly differently, and Optimize Worldwide is well-equipped to clarify these distinctions to help you make informed choices.
Search Engine Marketing (SEM) 
Search Engine Marketing is a dynamic strategy that enables your Bay Area pest control company to secure prime visibility on search engines like Google and Bing. When potential customers search for services such as "pest control Bay Area," your tailored ad appears at the top of the search results. Search Engine Marketing allows for highly targeted marketing, ensuring your ads reach people actively seeking your services. It's a cost-effective method that maximizes your reach to an audience genuinely interested in your expertise.
Display Advertising 
Display advertising is your gateway to building brand recognition and expanding your outreach. These ads appear in various formats, including banners, text, and multimedia, on websites and platforms frequented by your target audience. Bay Area pest control companies benefit from this approach as it enables them to showcase their services and expertise. The captivating visual elements of display ads ensure you stand out amid the online noise, effectively driving brand awareness and engagement.
Social Media Advertising 
The Bay Area's residents spend a substantial amount of their online time on social media platforms like Facebook and Instagram. Social media advertising offers precise targeting options that allow you to reach potential customers based on their location, interests, demographics, and online behaviors. This form of advertising empowers you to engage with local communities, showcasing your company's commitment to solving their pest control concerns.
Google Local Service Ads (LSAs)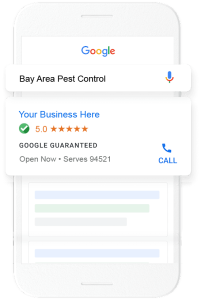 A strategy of Search Engine Marketing that is hyper-focused on a particular region. Google's Local Service Ads further enhance your visibility, offering a trusted and authoritative presence. Local Service Ads ensures your tailored ad appears at the top of search results when potential customers search for services such as "Pest Control Bay Area." These are a game-changer for local businesses because they are prominently displayed at the very top of search results, above even traditional paid ads. LSAs are accompanied by a green checkmark, serving as a trusted seal of approval from Google. This distinction enhances the credibility and trustworthiness of your Bay Area pest control company in the eyes of potential customers. Another standout feature of LSAs is their pay-per-lead pricing model which means you're only charged for the number of quality leads you receive regardless of your monthly budget.
Optimize Worldwide's Expertise
We are a seasoned digital advertising and marketing company with a deep understanding of the Bay Area market. We specialize in helping pest control companies like yours achieve their marketing goals through paid advertising. Here's how we can assist you:
Tailored Advertising Services 
Our forte lies in crafting personalized advertising strategies tailored to your business, meticulously taking into account its distinct characteristics, objectives, and budgetary considerations.
Keyword Optimization 
We go the extra mile to ensure that your paid advertisements are finely tuned with pertinent keywords, such as "Bay Area pest control," ensuring maximum visibility to the right audience.
Creative Ad Design 
Our adept team of designers and content creators dedicates itself to the creation of compelling ad copies and visually arresting graphics, capturing the attention of your potential clientele.
Continuous Monitoring and Optimization
We adopt a vigilant approach by continuously monitoring the performance of your ads, making nuanced adjustments to enhance their effectiveness over time.
Local Expertise 
As a locally rooted entity, our profound understanding of the Bay Area market empowers us to tailor your ad campaigns to the specific needs and nuances of the region.
Pad ads for Bay Area pest control companies are a powerful way to boost your visibility and attract more customers. Whether you're interested in SEM, Display Advertising, Local Service Ads, or social media ads, the benefits of digital advertising are clear. Optimize Worldwide, your trusted digital advertising partner is here to help you navigate the digital marketing landscape with expertise, creativity, and a local touch. Let us help you achieve your marketing goals and take your pest control business to new heights in the competitive Bay Area market. Contact us today, or call (925) 338-7368 to start a conversation.