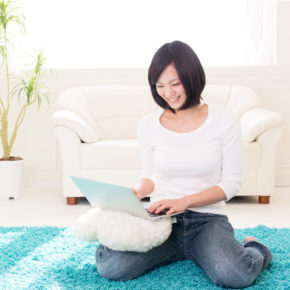 It's not enough to just be in business. You also need to advertise. But when you're a busy business owner, the prospect of marketing your business can seem like a daunting task.
Enter Facebook. Facebook is the largest social media network and boasts of 1.86 billion active users. Each of these users spends an average of 20 minutes on the site every day. For business owners, this is a market waiting to happen.
But you can't just sit back and wait for people to follow your business page, like your posts, or buy your products. The competition for Facebook real estate on home feeds is stiff, due in part to the massive volume of posts being published on Facebook. As a result, posts from business pages are only seen by one to five percent of their followers. An ad, however, will take posts beyond the business page and introduce the brand or product to new people.
Here's why you should advertise on Facebook.
It's affordable.
Advertising used to be expensive. Because of that, many business owners didn't advertise. If they managed to cobble together enough funds, they would take out a radio, TV, or phone book ad. It just wasn't feasible to think of doing daily advertising on an ongoing basis.
Now, with Facebook, you can advertise to as many as 4,000 people for $1 per day. As Brian Carter states, "If you can't spare $30 per month, you shouldn't be in business." In comparison to other marketing channels, Facebook costs much, much less. For instance, newspaper ads cost around $32 to reach 1,000 people, magazine ads cost $20, radio ads cost $8, but Facebook only costs $.25 to reach the same number of people!
It's effective.
Temraza Haute Couture, an Egyptian fashion house, doubled their revenue over a period of six months, using targeted ads on Facebook. Coca-Cola found that Facebook marketing reached 42 percent more people while using only 3.5 percent of their marketing budget. Their marketing campaign was six times more cost-effective with Facebook than with other digital video advertising. These and hundreds of other businesses, both small and large and from a wide variety of industries, have experienced increased sales or reach by using Facebook ads. You can too.
A study by Shareaholic showed that social media platforms sent more traffic to websites than Google and Bing did. Of those social media platforms, Facebook accounted for the lion's share of visits to websites. So if your goal is to draw traffic to your website, then Facebook is the place to do it.
Increasingly, people are using Facebook to find the information they need. In 2016, a Pew Research study said that about 6 in 10 Americans get their news on social media, with Facebook being the leader of the pack. So if you have an informative video or blog related to your industry, Facebook is the best place to promote it.
Yet another study showed that people are more likely to buy things in Facebook ads than on TV ads. As a social and interactive platform, Facebook capitalizes on relationship marketing. It's where you can present the human side of your business and make lots of friends. Facebook ads can be targeted to specific audiences with specific interests (whereas TV, radio, and magazine ads are limited to shooting in a general direction and hoping to hit the target). Facebook ads are shareable beyond the target audience (yes, ads are shareable) and this translates to free advertising for the business owner. So if you're wanting to sell something, Facebook is the market to engage.
It's easy.
You can make your ad as simple as you need to. You can turn a post, such as a video or blog post, into an ad with minimal effort. Or you can find a quality image from the stock images right in the Facebook ad manager, add some text, and create a fancy-looking ad in a couple of minutes.
If you're not quite satisfied with your ad after publishing it or if it isn't doing well, you can easily edit it and try a different variation. You only pay for actual views or clicks on your ad so there's not much to lose. The more ads you do, the better you'll get at it. Below, you'll be able to download Optimize Worldwide's Ridiculously Easy Guide to Facebook Ads and see for yourself how easy it is.
The days of relying solely on word-of-mouth referrals and newspaper ads are over. Now, Facebook is the best place for businesses, especially small ones, to make themselves heard. Make sure you're taking advantage of this excellent opportunity to grow your business.
Download The Free Guide Here
Error: Contact form not found.
About the Author
Marlene Slabaugh is a resident business copywriter for Optimize Worldwide. She writes for Optimize and for a number of Optimize's clients. As a result, she knows a little bit about everything, and her encyclopedic knowledge is growing by the day. She's been introduced to some new products and businesses because of Facebook ads.