In recent years, both the global economy and web based organizations have been experiencing a rapid downfall. Due to this, many brick-and-mortar firms have been wondering if starting an online business is worth the effort. However, in reality it has become necessary to consider starting an online business, or else the company might have to face issues in the near future.
The below mentioned points highlight why starting an online business and marketing program has become extremely essential.
New Economy
Since the time businesses have started using Internet as an interactive platform, new horizons have opened which have enabled them to satisfy customers in a more time-saving and effective way. The explosive growth and sheer size of the Internet has caused a change in the traditional way of doing business. Good examples of this are Amazon and Ebay that have become much more successful than many traditional brick-and-mortar businesses. Apart from these larger companies, small sized companies have also gained success by starting an online business. Many studies and analysis have showed that e-commerce plans are beneficial for the growth of both small and medium sized businesses.
Internet is the Perfect Platform for Business
Internet has also made shopping easier for people. E-Commerce is the "big thing" in the whole wide world. Since the online stores are just a click away from customers, it saves a lot of their time and effort. This eventually also results in increased profitability for the business.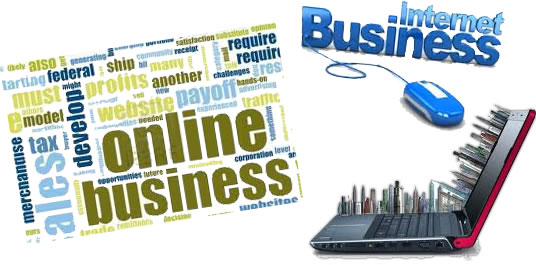 Company's Image
The company can boost its corporate image by promoting its presence in the web world. In today's age, a company's profitability can get considerably affected if it doesn't have a website. So, it is imperative to create a good corporate website to elevate the brand image.
Provides better customer support
Apart from attracting customers to a business, it is necessary to ensure that they continue being loyal to it. This can be achieved by starting an online business website which can prove beneficial in improving customer support. It also helps increase customer satisfaction, thereby generating greater profits for the company.
Makes information easily available to customers
Some years back, the companies took many days for delivering products and services to their customers. Nowadays, quick modifications can be done by virtually changing the information about the company or its products. These changes can be published on its website and shared with the world within a short period of time.
Ability to do business 24 hours
By starting an online business, the company can make the most of staying functional round the clock. This will enable it to generate more sales through its online services and even when its retail store stays shut. Also, you can make use of b2b marketplaces like this, to help you scale up your E-Commerce.
Go Global
By starting an online business, a company can grow significantly and achieve global presence. It creates a platform that helps the company to reach out to a diverse, global audience. Based on the AMR research, B2B marketplaces are estimated to enable the flow of over $1.3 trillion products and services in the future.
To sum it all up:
Due to the new emerging technologies, starting an online business has become a simple and cost-effective task for companies.