Business Spotlight: Optimize Worldwide
Matt Morgan's website optimization company, Optimize Worldwide, was featured in the Business Spotlight section of the Record Searchlight, a local newspaper in Redding, California. The interview took place back in October of 2012 and made it's way into the Sunday paper January 20, 2013.
Since the interview, Matt's company has significantly grown. Optimize Worldwide has 5 employees now. Two website designers, a communications manager who handles the SEO process, a professional copywriter, and the owner Matt. The company has since produced an amazing amount of professionally designed websites and have helped numerous small businesses gain more online exposure in the major search engines like Google.
You can review Optimize Worldwide's website design portfolio at https://optimizeworldwide.com/website-designs/. Additionally, you can read what their happy customers had to say at https://optimizeworldwide.com/testimonials/.
You can read the interview at the official Record Searchlight website here: http://www.redding.com/business/business-spotlight-optimize-worldwide-ep-361876021-354064941.html
---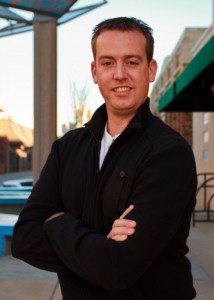 Date of publication: Sunday January 20, 2013
Owner: Matt Morgan
Services offered: Online marketing including search engine optimization, website design, logo and graphic design, social media marketing, and domain and website hosting.
Date established: Oct. 17, 2011
Location: 1700 Market St, Redding, CA 96001
Hours of operation: 8 a.m. to 5 p.m. Monday through Friday.
Phone: 530-710-8283
Email: info@optimizeworldwide.com
Website: https://optimizeworldwide.com
Number of employees: 2
Start-up capital: $0
Estimated annual gross revenues: $100,000
Describe your business:
I've built a team of experts who help small businesses gain more online exposure through search-engine friendly web design. Our search engine optimization (SEO) services focus on targeted key phrases plus locations and increase the organic listing for those terms in the search engine results pages (SERPs) like Google, Bing and Yahoo!
Optimize Worldwide combines website design, search engine optimization and marketing to create comprehensive web development optimization plans for our clients. Plans often include keyword-specific optimization, content creation, content management system integration, blogging services and social media promotion. Support services for website hosting and domain management are also available.
What prompted you to start your own business?
I have always been an entrepreneur at heart. I ran my own sign company while I was still in high school and later ran a website design business out of my home for many years after college. In 2008, I chose to take the corporate path and went to work as a web administrator at a national background screening firm that was a frontrunner in technology. I was promoted to marketing director. Late July 2011, I was put on medical leave for two months after a horrific motorcycle accident that almost took my life. I came back to my marketing director position only to be laid off two weeks later. Rather than filing for unemployment, I literally drove home and fired up my old website design business, but this time with focus on Google search engine optimization.
What is your educational and career background?
I am a native to Redding, born and raised. I graduated from Shasta High School and took general education courses at Shasta College. I moved to Sacramento for a few years to pursue a higher education at CSUS. I took additional courses at the community colleges down there as well, which included American River College and Sacramento City College. I was drawn to technology and finished my educational journey at Heald College in Rancho Cordova, where I studied network security and website design.
While I was still in high school, I took over my older brother's sign company and continued to make a few bucks in college with the vinyl machine out of my apartment. While studying in Sacramento, I ran the electronics department at a local Staples office supply store. After college, I headed back to Redding and ran a website design business call Matt Morgan Designs out of my home. I gained a big portion of my expertise while working as the web administrator and marketing director at a national background screening firm. As the marketing director, I was able to work with new technology and top-notch experts, including graphic designers, email marketers, legal experts, programmers and business professionals from around the world.
How much research did you do before starting your business?
Zero. It all happened so fast. I was laid off from my previous employer around 11 a.m. and started Optimize Worldwide around 1 p.m. that same day.
What were the most helpful sources, including websites?
I have to give a lot of credit to Robert Mather, the CEO at Pre-employ.com. He is a very smart guy. As his marketing director, he gave me access to a wealth of knowledge and cutting-edge technology.
As a web designer and SEO expert, Google becomes your best friend. A lot of times a good developer is measured by how quickly they can find the solution through a Google search. Books and classes are outdated by the time they are presented in the technology field.
LinkedIn was a great resource to find other business professionals to help grow my business.
I have also had a lot of success from a local networking group called the Shasta Cascade Leads Club. Its website is http://reddingleadsclub.com
One of the most powerful resources were the colleagues I've built a relationship with over the past 10 years. I re-connected with other business professionals who I have learned from over the years and have trusted. Each call and email was returned with genuine advice and support to grow my new business.
When were you the most discouraged?
My business was fueled by referrals and a few leads from Internet search. The beginning of this summer got slow and I was caught off guard without a sales force and marketing. Seeing that I did not take out a business loan to start my company, I was living project to project. It got a little scary, but once again, another colleague happened to stop by my office and helped me built a remote sales team from scratch without anything expected in return. The sales team allows me to focus on what I do best and let the new business flow in.
What company or individual do you admire?
Naturally, I am drawn to Google. I follow Matt Cutts, head of the Webspam team at Google, very closely. There are also about 20 top SEO experts I follow online that are constantly sharing tips and industry secrets.
What will make your business stand out from competitors?
It seems like there are so many established companies in my industry that overcharge and under-produce as their standard, and business owners are not willing to accept that anymore. I strive to offer extreme customer support and customized solutions for each client instead of pursuing the cookie cutter approach. Each business is unique and deserves special attention to help grow their business.
I make myself and the Optimize Worldwide team readily available via phone, email, web, social media, even text messaging. I believe it's important to be responsive and address every single inquiry.
I also give free advice. I truly enjoy educating others about how the search engines work and like creating new ways to generate new business. Consultations, quotes, website analysis, and technical questions are always free at Optimize Worldwide.
I also believe that it's important to collaborate with my competitors. As a web designer and SEO, I have the opportunity to work with clients from around the world. I have been working closely with other Web designers, graphic designers and SEOs locally and globally for many years. I have found that mutual respect and collaboration help all of us provide a better experience for our clients. Quality Internet marketers will tend to run in packs.
Who is your target client/customer base?
Small business owners looking to build an online presence to drive relevant customers to their product or service offerings. Service-based companies tend to benefit the most for our website optimization services.
There are so many great companies out there that struggle to get in front of the right people. We work with many clients selling products online as well, however, it can get competitive in the search engines. Niche products will do well.
We also work with charities, local/state/government agencies, and educational institutions.