Optimize Worldwide is proud to announce that it has won the Three Best Rated® award for Best Business in 2022 and Top Advertising Agency in Concord, California. Per Three Best Rated, Optimize Worldwide was chosen as one of three of the top digital advertising agencies in the region.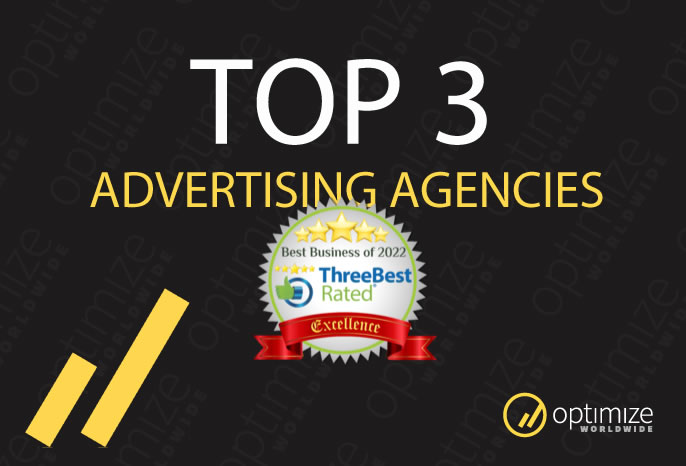 The Award Selection Process
Since 2014, Three Best Rated has been a trusted source for "Top 3" local business and other resource recommendations. Three Best Rated uses a detailed and extensive 50-point inspection process to select the top three agencies for this award. It breaks down this inspection into categories that include business history, services, images, operating hours, social media, website, awards, complaints, reviews and miscellaneous. With the last category, it considers a variety of areas, such as location, prices as compared to competitors, specialization, discounts, gift vouchers and its own reward team's overall satisfaction.
Optimize Worldwide received an overall five-star rating. With the Inspection Report, we ranked 9 out of 10 for the final rankings in all but two categories. The two other agencies chosen for this honor didn't perform as well.
Our Advertising Background
In 2011, a native of Redding, California, Matt Morgan, founded Optimize Worldwide as a one-stop digital advertising business. He then worked to make Optimize Worldwide grow into the largest website design company in the region. The agency has experienced so much growth that he moved the headquarters to Concord in the Bay Area after an expansion of the agency's advertising and marketing service offerings and other areas. Matt has been recognized globally as a published, SEO, SEM and web development expert.
All of the members of our team of knowledgeable, experienced professionals specialize in a wide range of areas, including branding, graphics, logos, search engine optimization, domain and secure web hosting, Google Ads, Google Maps, Pay-Per-Click, Review Monitoring, Facebook and Instagram Advertising, WordPress web design, of course, all other areas of digital advertising and website design. We also offer our clients free online marketing consultations.
Our ever-expanding client portfolio includes many local and non-local businesses. We're happy that we could help and continue to help our neighbors with their digital advertising and website needs.
The "Best Business in 2022 and Top Advertising Agency in Concord, California" award by Three Best Rated is merely one of many awards and honors that Optimize Worldwide has received over the years. We were previously recognized as winner of "Best in Search" by Top SEO and as "Top Local SEO Agency" by UpCity. We are a Google Partner and valued contributor on Search Engine Watch. We've also been featured on Moz. Additionally, BestWebFirms.com handpicked our agency for one of its curated lists of top companies after a thorough testing and research process.