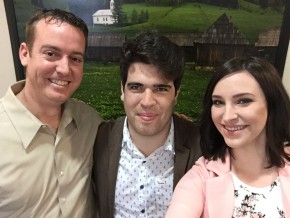 Derek Pruitt was homeless for about two years–from the ages of 17 to 19–due to an unfortunate situation with his parents. He and his younger brother moved into the Good News Rescue Mission when Derek was 18. At first, he focused on finishing high school so he could get a full-time job to support his brother, but, as time progressed, he realized he needed to find a fast-track route to sustainable employment.
So, Derek started looking for a job while going to high school full-time. He also signed up for a job readiness class at the Good News Rescue Mission. Through the Mission, he found out about the youth program at the SMART Center. And two days later, he and his friend, Jacob, who was also homeless, enrolled in the program.
The SMART Center Youth Program
According to Derek, the SMART Center's intake process is designed "to find out the aptitude-ness of your formal educational background". Derek passed the initial intake tests with flying colors and got accepted into the program.
"And then, they threw me into the GED prep course. I excelled, so they just had me take the test, and I passed," Derek says. He got his GED in the summer of 2015, about six months before he would have finished high school.
The SMART Center also offered several workshops that Derek attended–workshops on personal development, financial responsibility, job search skills, and job retention skills. And he and his case manager both looked for a job for him.
Finally, a Job
Derek landed several job interviews. And then, he went to a Homeless Rock Stars event.
Homeless Rock Stars is the brainchild of Nigel Skeet, a world-famous photographer, who wanted to create a place where homeless people could be humanized and where they could dialogue about who they really are with local community leaders. These events have served as catalysts to help people reintegrate into society.
At the Homeless Rock Stars event, Derek met Phylicia Snow and Wendy Zanotelli from United Way. They were so impressed with Derek that they offered him an internship at United Way.
It was then through Wendy that Derek got connected with Matt Morgan, CEO and founder of Optimize Worldwide. Derek began working with Matt on United Way projects and eventually, was offered an interview at Optimize.
Derek received a job offer from an IT network company one day, and the next day, he received a job offer from Matt. Derek accepted the job with Optimize on August 31, 2015, and started working on September 1, which also happened to be his birthday. By this point, Derek had looked for work for a little over a year.
In the following six-minute video, Derek talks about his journey to employment at Optimize Worldwide.
No Longer Homeless
On November 12, 2015, Derek accomplished another milestone–he got his own place with his friend, Jacob, and his brother.
Since then, Derek has gained a distinguished office persona, including several additional pounds. And he's come full-circle. He mentored Steven, another SMART Center youth program participant, who did an internship at Optimize Worldwide.
A Thank You to the SMART Center
Optimize Worldwide wants to thank the SMART Center for helping us grow our business and introducing us to excellent job candidates. Because of the SMART Center, we are able to help young talent like Derek get a great start in the business world. It's an investment in the future of our community.